Auckland proposal video – Mat asks Kylie to marry him!
Occasions like a proposal are so powerful.  They can be some of the most beautiful and defining moments of our lives.
So when Mat (who is part of our Perspectives crew) came to us a month beforehand and said he wanted to find a way of proposing to Kylie his girlfriend of 6 years, we were so stoked to be apart of it.
As Kylie has since said.  "I can't wait to show my kids this one day"  And for us thats what it's all about.  Preserving those moments that are so defining and mean so much to people.
So watch the whole film, read the behind the scenes and then make sure you check out the images we also captured as Mat proposed at the bottom of this blog.
Enjoy.
Here's the backstory.
Kylie is a huge Disney fan… and Mat wanted to incorporate this into his proposal. He came up with the idea of editing together a montage of Disney films as a way to profess his love to Kylie.
We then brainstormed with Mat to make his custom-made film, even more romantic.  Idea.  Show it in a forest clearing, surrounded by lanterns and fairy lights!
So bring in a generator for power, a huge amount of fairy lights, a projector, portable sound system, portable screen.
And then to get Kylie there, along with us & our cameras … without her suspecting anything … ?   A few weeks before the planned date, we put a request out on Facebook for a model couple to volunteer for a shoot with us. Funnily enough, Mat & Kylie were the winners!
So now, we had the excuse – this is why you'll be out in the forest, with both the photo & cinema teams around.
Cue Josiah & Asher – two of Mat's best friends, who came out into the forest with Amber & Isaac, and got everything set up. Then, they minded the gear & generator while we were shooting.  And as Mat's half the cinema team, Travis from Burlap & Blossom filled in – getting the much needed second angle to capture all the emotions.
The weather forecast … was for rain, setting in around 7pm. eek!  We had figured optimum time was around sunset – 8pm. Jared and Travis caught up with Mat & Kylie earlier in the afternoon, where they filmed some of their 'love story' as part of "winning the competition". Then we tag-teamed, and Isaac & Amber headed out for some photos. By this stage, it was raining prettily steadily. double eek!
So we made the call after about 20 minutes of shooting, that it just has to be now – or never.
So we raced ahead of them with the excuse of 'just one more quick location that we really wanted to get …
and the rest… is history.
Here's a little sneak peek of the images we captured. We chose a black & white treatment… it just draws your eye straight to the emotion in each image, without any distraction from colour.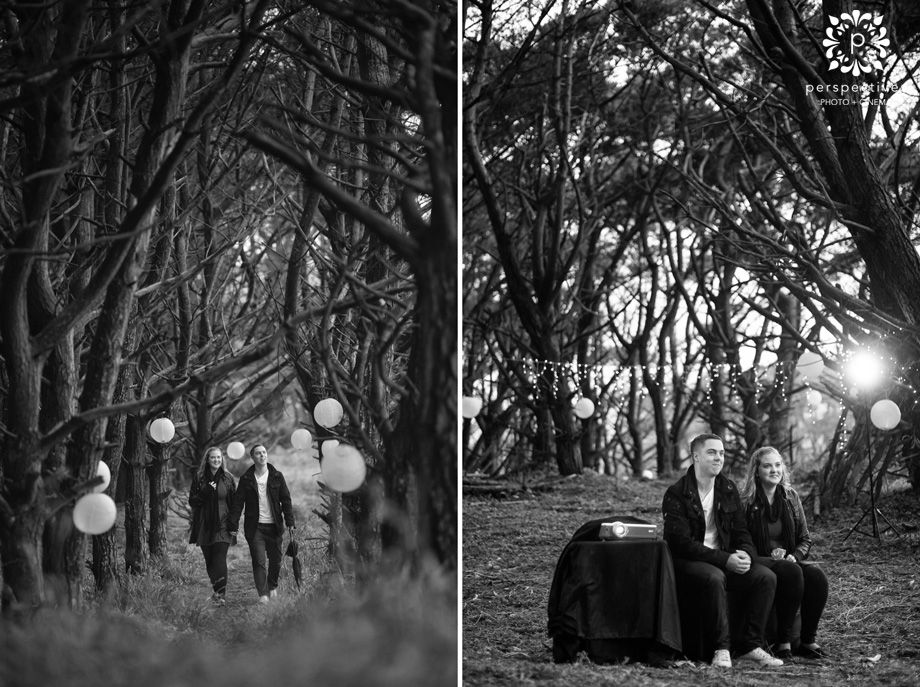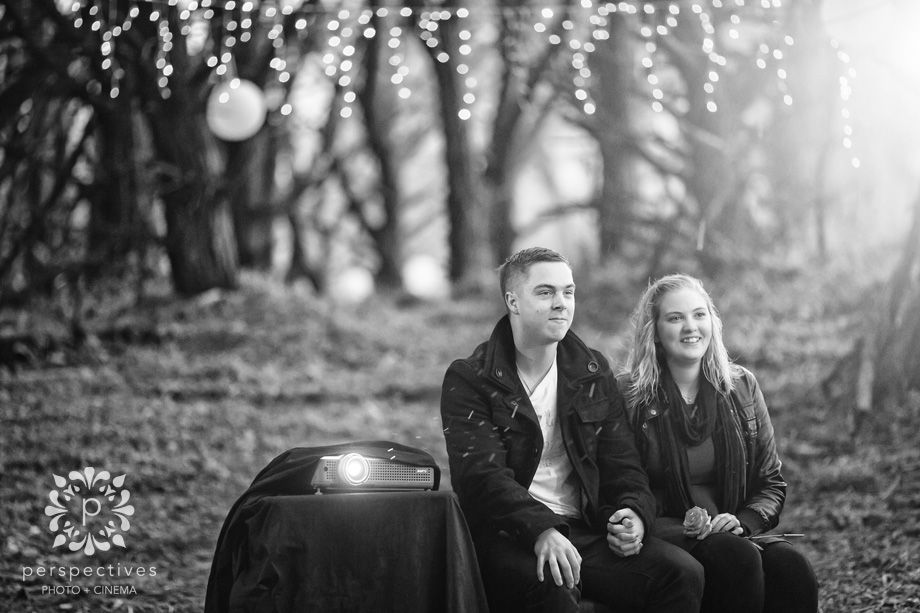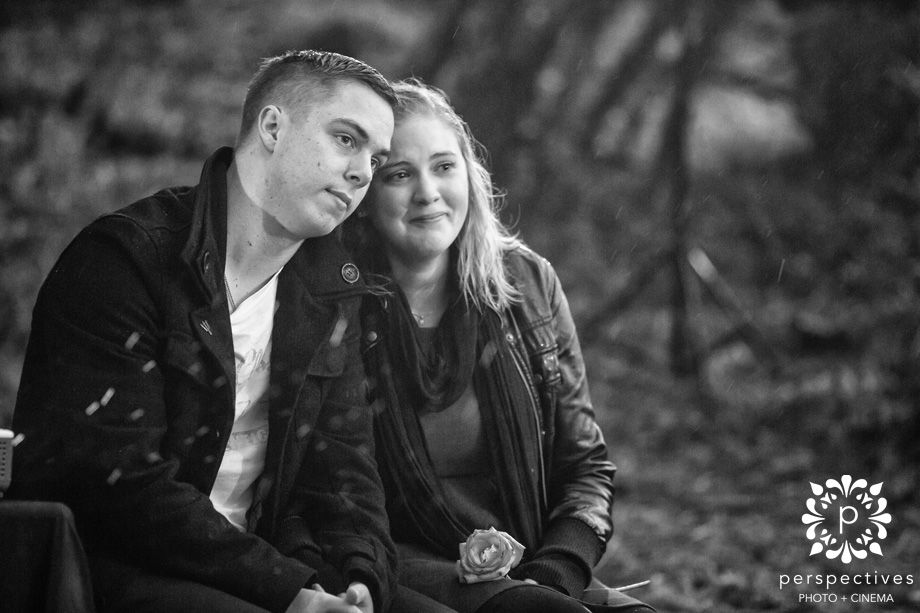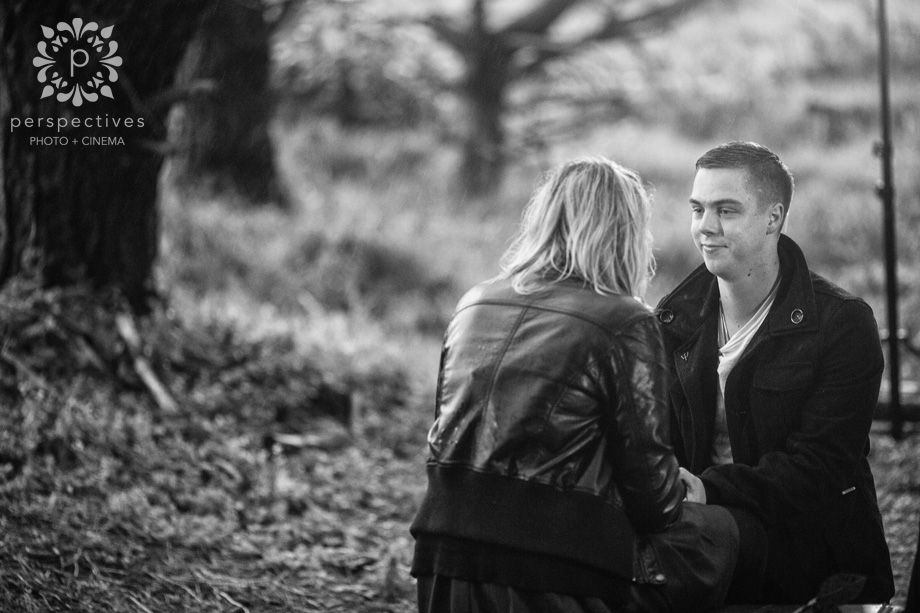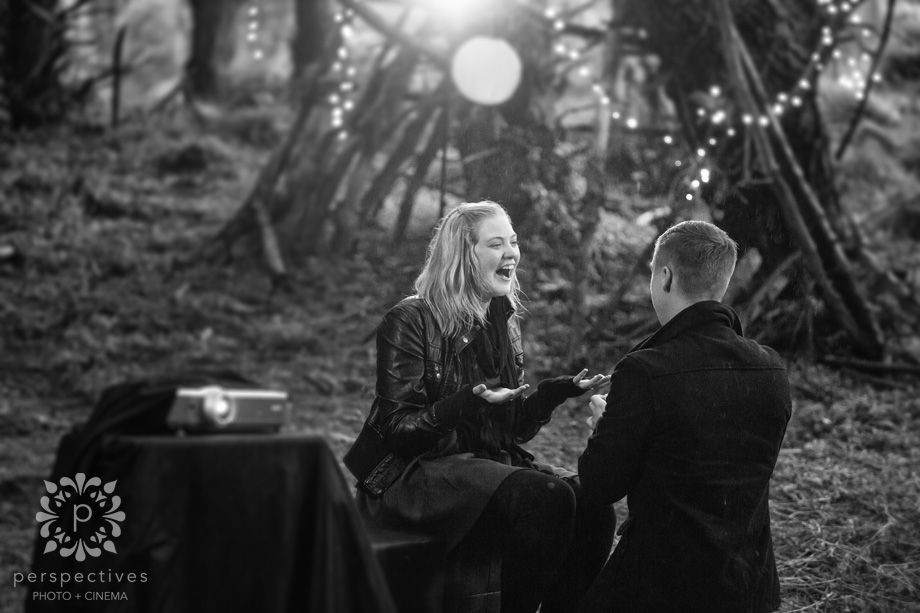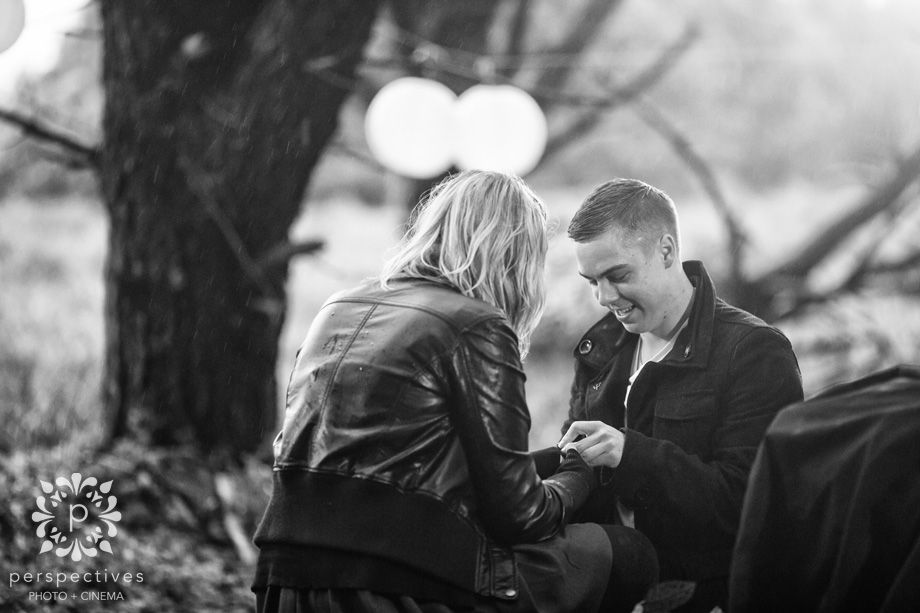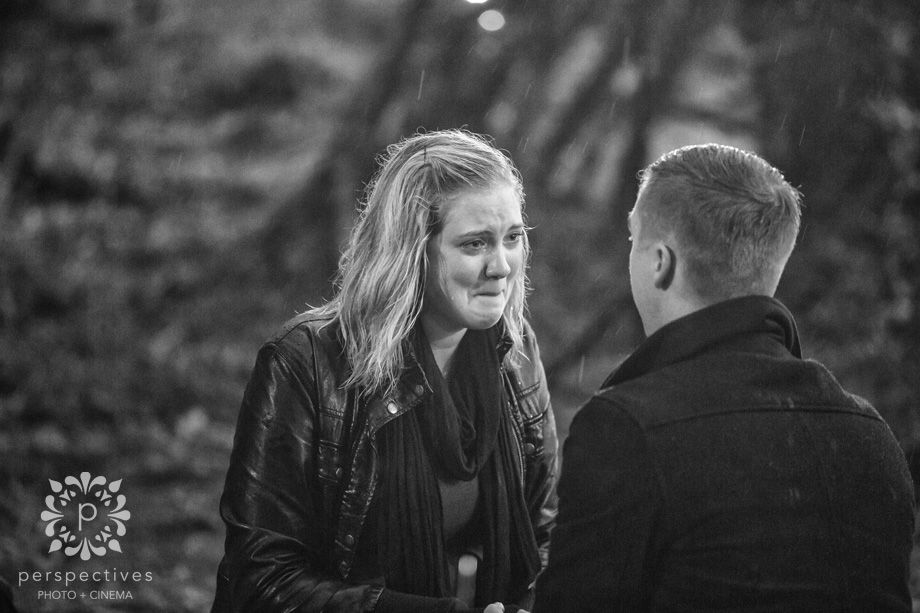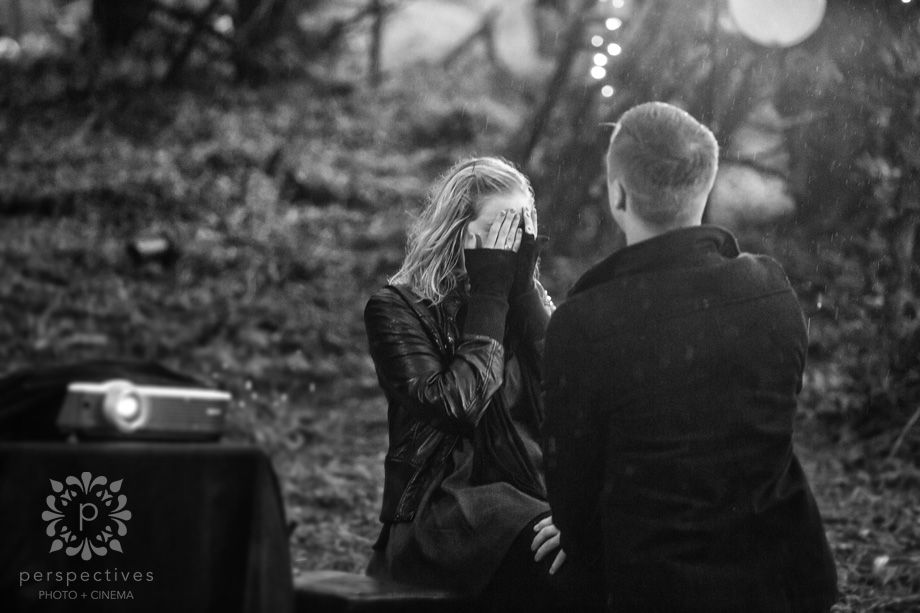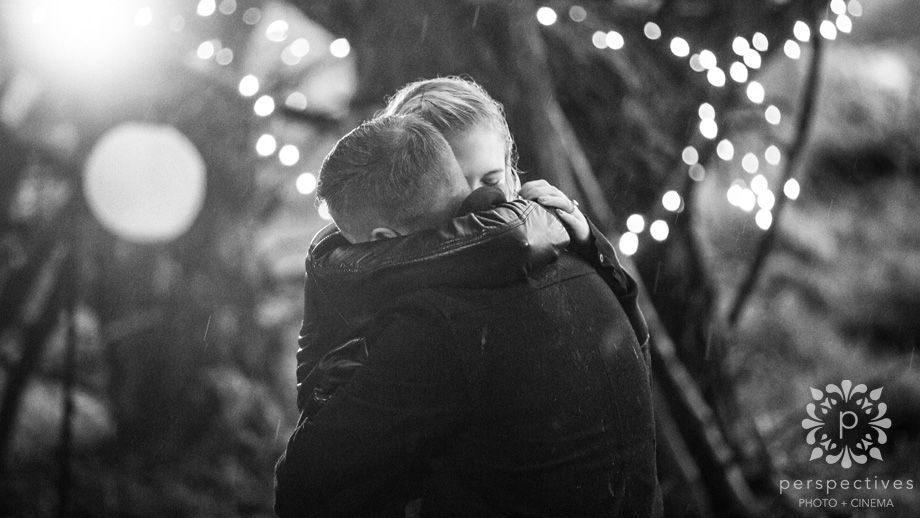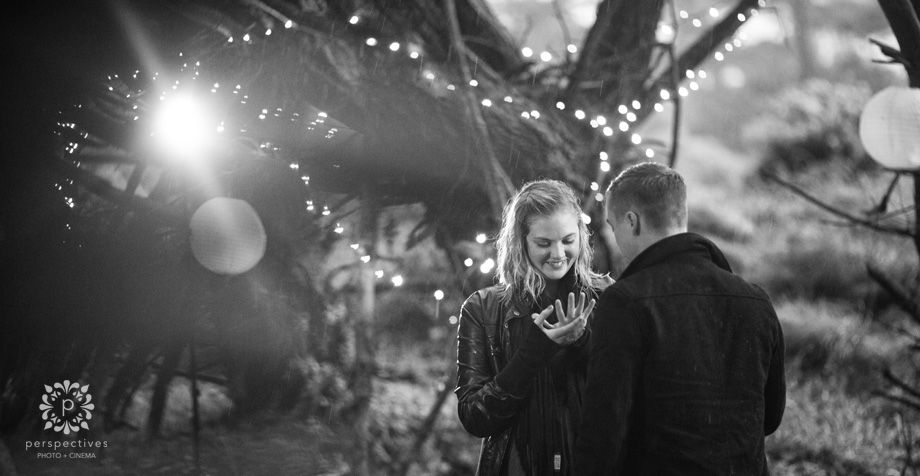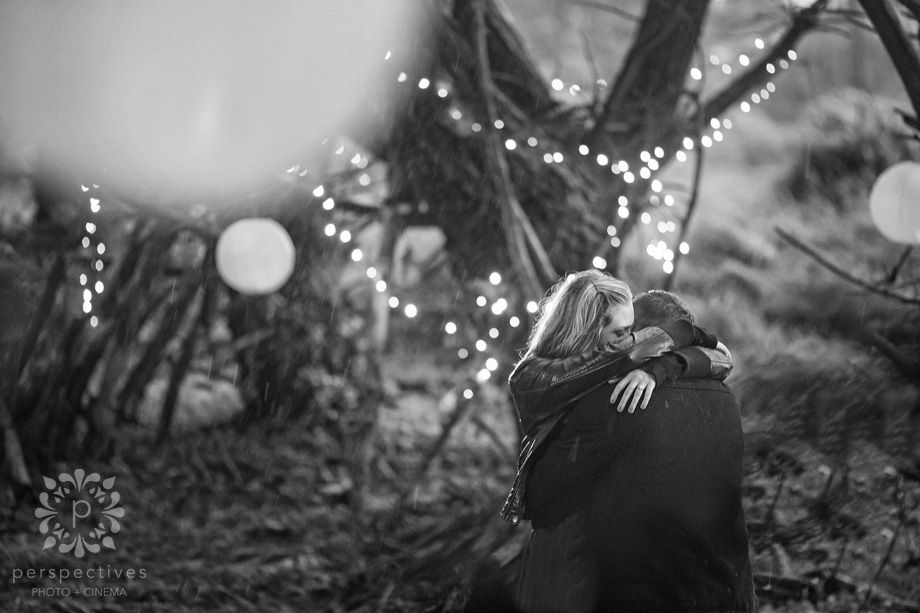 Congratulations, Mat & Kylie! You guys are an amazing couple – and we can't wait to cover your wedding day, too.
Head along and 'like' our Perspectives Photo + Cinema Facebook Page to stay updated with all our latest creations.
If you're looking at this – and thinking it seems like the coolest idea ever – well, the good news is, you can book one of these yourself. Or – suggest it subtly to your man! We'll team up with you and craft a plan for the proposal of your dreams, that you'll be able to remember for ever. Contact us for more details.